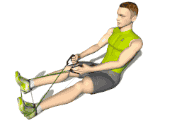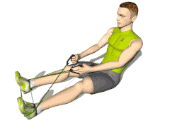 This bodybuilding exercise that works the upper back, with an emphasis on the latissimus dorsi and teres major muscles. A resistance band is all you need and so you can do this in your living room or at a training center. The exercise will help you improve muscle definition in your back.
Body Parts
Serratus Anterior
Transversus Abdominis
Biceps Brachii
Rhomboids
Teres Major
Latissimus Dorsi
Position
Sit on the floor with your legs in front.
Keep the knees lightly bent.
Put the center of the elastic under the feet.
Grab the two ends of the elastocks to cross them in front of the feet.
Keep the torso straight.
Suck in the stomach and contract the abdominals.
Keep the head straight.
Execution
Pull the elastic band at abdominal level while keeping the arms close to the body.
Never arch the back.
Care
Keep the head aligned with the torso. Keep the back straight. Keep the abdominals tightened. Keep the wrists straight. Never lock the knees.