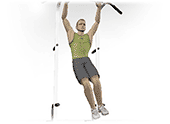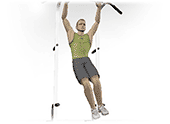 Position
Hold the bar with the thumbs pointing in.
Place hands at shoulder width.
Keep the legs together and extended.
Lift one hip towards the other.
Lower the opposing leg as far as possible.
Suck in the stomach and contract the abdominals.
Execution
Lift the hip up and to the center while contracting the obliques.
Care
Keep the head aligned with the torso. Do not flex the torso. Keep the wrists straight.