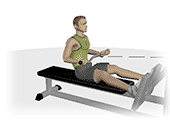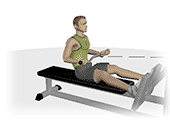 Body Parts
Serratus Anterior
Transversus Abdominis
Biceps Brachii
Rhomboids
Teres Major
Latissimus Dorsi
Position
Sit in front of the pulley set at its lowest level.
Press the feet on th machine and keep the knees lightly bent.
Hold the triceps bar with the palm of the hand facing up with an as wide as possible grip.
Keep the torso straight.
Suck in the stomach and contract the abdominals.
Keep the head straight.
Execution
Pull the bar at abdominal level while keeping the arms close to the body.
Never arch the back.
Care
Keep the head aligned with the torso. Keep the back straight. Keep the abdominals tightened. Keep the wrists straight. Never lock the knees.