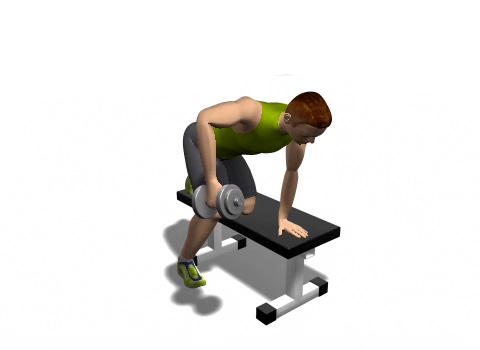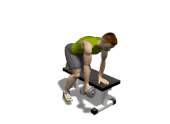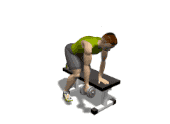 Body Parts
Posterior Deltoid
Biceps Brachii
Rhomboids
Position
Stand next to a bench.
Place the hand and knee of one side on the bench.
Keep the back parallel to the bench.
Keep the other foot on the ground with the knee slightly bent.
Hold a dumbbell with the free hand with the thumb pointing in.
Keep the arm stretched out vertically.
Avoid arching the back.
Suck in the stomach and contract the abdominals.
Keep the head aligned with the torso.
Execution
Pull the dumbbell alongside the chest.
Keep the elbow pointing out.
Care
Do not look up. Keep the back straight. Keep the abdominals contracted. Keep the wrist straight.
Similar exercises