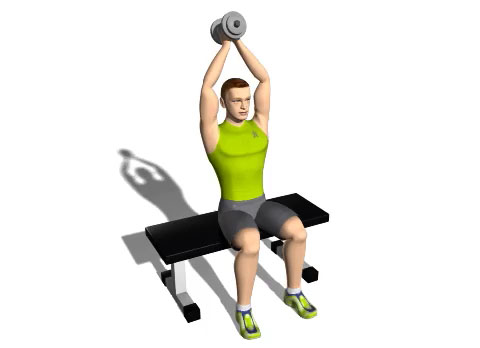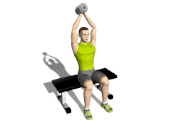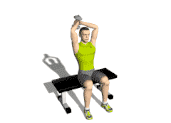 This bodybuilding exercise will work the triceps, and needs to be done in a training room at a fitness center. You will need free weights for this exercise, and can use either one or two dumbbells. It is a great exercise to help build muscle definition in the tricep, as well as lose those 'bingo wings' in your arms!
Position
Sit on a flat bench.
Hold the dumbbells and fully extend the arms up.
Hold the weights at shoulder width with the thumbs pointing back.
Pull the shoulders lightly back.
Suck in the stomach and contract the abdominals.
Keep the head and back straight.
Avoid bending the wrists.
Execution
Bend the forearms while keeping the elbows up.
Lower the weights behind the shoulders.
Keep the elbows in place.
Care
Keep the back straight. Keep the abdominals contracted. Never lock the elbows. Keep the wrists straight.
Similar exercises